Marketing on Pinterest: A Beginners Guide
Submitted by

tom

on Thu, 11/10/2012 - 17:00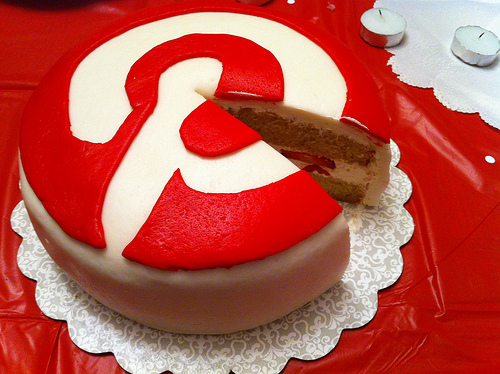 Image sourced from ShardsOfBlue
Marketing on Pinterest can be very effective for many businesses. Well implemented Pinterest campaigns can be incredibly effective for a variety of reasons. Today I am going to go through the basics of marketing on Pinterest, but before I do I wanted to make a couple of quick points I feel are very important before we proceed:
Pinterest is a social network just like any, so don't make it all about yourself.
Be weary of pinning copyrighted content from other websites, as this might have legal ramifications. 
Now we have that out of the way I'd like to talk a little bit about why pinterest could be a fit for your business. I think the real clinchers for Pinterest are the integration with other social networks, the easy embedding of pins and the insane levels of engagement. 
Social integration and easy embedding not only increase the audience you are potentially reaching but also do wonders for Pinterest SEO wise. That makes Pinterest a real authoratative site in the eyes of search engines which is good for you, and even though the links are no-follow, I have seen first hand the results Pinterest can bring.
Users on Pinterest love liking and repinning. I think there are a few reasons for this but the most apparent being that its real easy to scroll through a lot of content on Pinterest, it's very quick and easy to like and repin and also people want to fill their boards with lots of pretty pictures! 
Other reasons pinterest might be a good fit for your business are that:
Pinterest is very visually orientated
A Price can be assigned to a pin (only in dollars currently) which makes it great for promoting products.
Pinterest has great SEO benefits.
So as you can see marketing on Pinterest can be of use to a variety of businesses, particularly those with lots of visual content and businesses that sell products. So now lets take a look at a few pointers concerning Pinterest marketing.
Link Your Account to Facebook and Twitter: Pinterest integrates really nicely with Facebook and Twitter. It is recommended that you link your accounts.
Get Creative: Check out Ami Musa as an example of getting creative on Pinterest. This fictional character was created by Unicef and the pins on her only board are a stark contrast from the usual content one finds on Pinterest. I think Unicef have done a really good job of using Pinterest creatively here. 
Join Community Boards: Community boards are a great way to get your pins in front of a large audience. They appear on all contributors profile page in the same way as their other boards, and any time you pin to one that pin goes out to all the boards followers. You could also create your own communal boards as well, check out this article I wrote on creating community boards.  
Create a Portfolio Board: Just because you have a service-based business doesn't mean you can't make use of Pinterest! Why not create a board to pin a showcase of your best projects on? This can be really effective especially when your business is quite visually orientated.
Get Keywords in the Description: Pinterest has a search function. People use the search function. Add relevant keywords to the descriptions of your pins and boards, and to the titles in the latter case.
Use Hashtags and @Mentions: Just like in Twitter you can use hashtags and @mentions in your pin's description. 
Provide Value: You should make sure that what you are pinning provides some kind of value to your audience. It can be as big as changing their lives for the better or as little as giving them a chuckle. 
I think with regards to building a presence on Pinterest, as with any social network, content quality is the key factor. Posting great content that resonates with people is going to be what gets you in front of people. Of course on pinterest the  Having said that to start with you are talking to an empty room, so you will need to follow a few people in the hopes some will follow you back.
So hopefully that gives you a good idea of how to start out on Pinterest and whether the network is a good fit for your business. If you would like to learn more about marketing on Pinterest why not check out our other
articles about Pinterest
? Thanks for reading!
Social Media