A Link Building Guide for 2013
Submitted by

tom

on Wed, 20/03/2013 - 15:06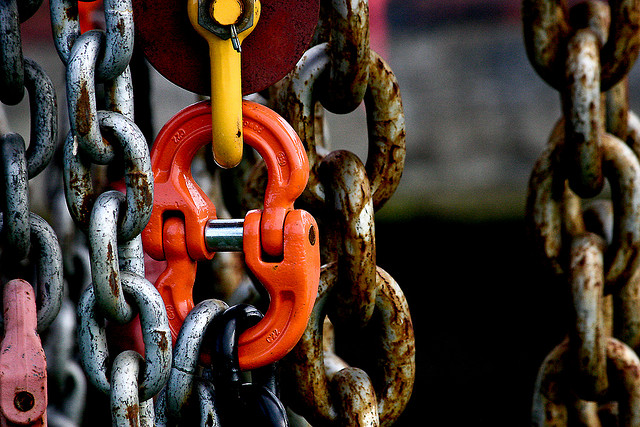 Image sourced from Lanier67 on Flickr
The world of SEO is constantly changing. A lot of the stuff SEOs used to do to build links has now become either ineffective or could harm your sites in the rankings.
Search engines are constantly looking for ways to make it more difficult to manipulate their rankings. The best way we can work with this is literally by not trying to manipulate the rankings and instead get our sites ranking because they deserve it.
That's not to say that there aren't still some great ways to build links or that link building is dead at all. The way the game has to be played is just changing significantly.
Firstly there is one thing that all those responsible for link building need to get. I'm sure most people reading this probably realise this already, and I hate using this cliche phrase, but it really is fundamental to what we do now:
Content is King
Content is becoming more and more important when it comes to SEO and at this stage it really should be the bread and butter of your link building efforts. The aim here (from a link building perspective) is to create content that will naturally attract links and social sharing.
There are a ton of other ways content can help businesses, and I strongly recommend that the work that you do here forms part of a bigger content strategy that addresses some of those other issues too.
One of the biggest mistakes I see businesses making when it comes to content strategy is that they often talk far too much about themselves. It's really important when it comes to content that you write what your audience wants to read and not what you want to write.
When it comes to content, headlines are incredibly important. It is the first thing people will see when they start reading your article. It is vital to have a good headline if you want to get the most out of your articles. I wrote an article a while back with some great tips for writing good headlines. Why not take a look? 
You need to carry on building interest after the headline. You need to grab the reader with the first sentence of the article and entice them to keep reading. It is also important that you don't give all the value of the article away straight away. You want people to keep reading your article so you need to be consistently delivering value throughout.
Targeting long tail keywords with your articles is another great idea. If we do a good job building some links to the articles initially then we can get them ranking for some phrases that are going to consistently drive traffic, and potentially result in even more inbound links.
Editorial calendars are really useful for planning what you will publish and when. In their simplest form they are a list consisting of titles of articles and when you will publish them, but you can obviously add new columns to account for things like keywords you want to target and images you would like to use.
But the most important thing to remember is that when it comes to content, quality is always more important than quantity. Putting the time and effort in that is neccesary to create great content makes a massive difference. 
So I've talked a lot about content today, but of course that really is only part of the puzzle. Writing a ton of great content isn't much use if no one is going to read it.
Key Takeaways
I hope you have enjoyed this article and that you carry on and read part 2, which will cover promotion. I leave you with this quote from David Meerman Scott and a great illustration (sourced from Intersection Consulting) of the point I found:
"Performing search engine optimization on a crap-filled site just makes it slightly less crappy." (David Meerman Scott)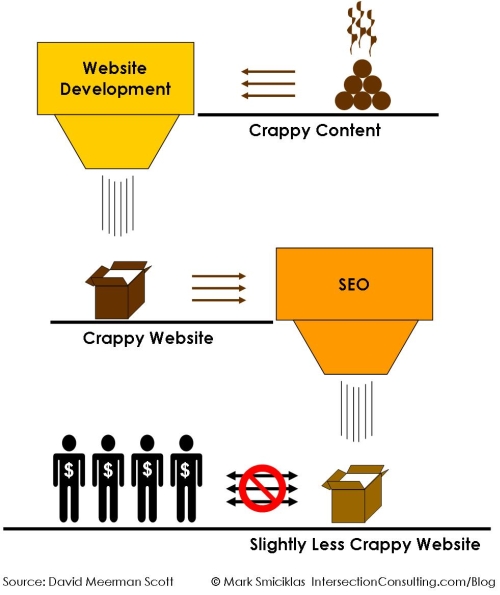 Thanks for reading, don't forget to check out part 2!
SEO