Finding the Right Internet Marketing Mix
Submitted by

tom

on Thu, 18/10/2012 - 17:01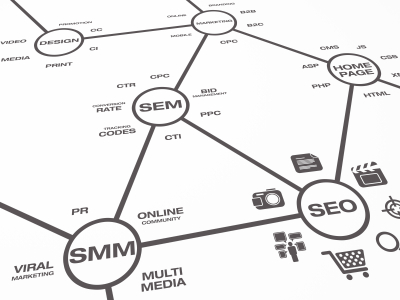 Most businesses nowadays are getting smart enough to know they should be marketing themselves online. However, they might not realise what strategies they should be focusing on. There is a wide range of options available to businesses marketing online and it can be difficult to know how to proceed without a good understanding of the options. Today I am going to go through a few of the considerations you should have when thinking about your online marketing mix.
A lot of the time your Internet marketing mix is going to contain a bit of everything I am going to discuss in this article, but it is still important to work out how much time and resources you are going to commit to each area. The right mix is going to depend entirely on the business in question and there is no generic solution. So how do we proceed?
What are Your Goals?
As with any kind of business strategy it is important that we align our efforts with our goals, so your mix should heavily dependant on the goals of your businesses online marketing strategy. Are you looking to increase brand awareness or promote yourselves as thought leaders? Then social media is going to play a key role. Are you looking to increase relevant traffic to your website? SEO should be a good bet. How about converting the traffic you already have more effectively? Then CRO is what you should be looking into.   
What is Your Budget?
Some businesses don't have the budget to include everything in their mix, and that can make for some tough decisions. First of all, how competitive is your market with regards to search? Sometimes SEO can be a good bet for lower budgets, especially if you are mainly targeting locally, but if we are looking at areas that are competitive in search, good content and social media can be more cost effective.
Short Term or Long Term?
What are your goals? Are you looking for a short term return from your Internet marketing strategy? Or perhaps long term strategies would be more suited to your business. Usually there is going to be a mix of the two.
Different disciplines will return over different timescales, for example you would expect see a return from CRO and Advertising relatively quickly whereas social media usually takes a while to start bringing good results. 
Content is King
No matter what your mix, content is usually going to be at the centre. There are some rare cases where it might not be, but these are few and far between. Most of the time content is going to be the most important part of your online marketing strategy. It is what will draw people to your website, what will keep them interested and ultimately what will convert them from visitors into leads and clients.
So hopefully that gives you an idea of how to find a good mix for your business. If you feel like you could do with some help and support in finding the right mix for your business then you are in the right place! Sensible Internet's broad approach to internet marketing makes us the ideal candidates to help with your overall Internet marketing strategies. If you're interested in talking to someone about your Internet marketing mix please don't hesitate to contact us. Thanks for reading!
Strategy