7 Awesome Tips for Promoting Your Infographics
Submitted by

tom

on Wed, 21/11/2012 - 07:25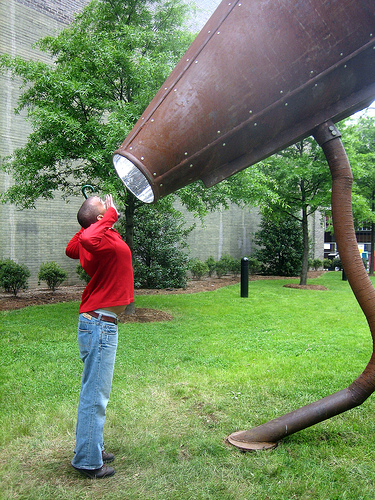 Image sourced from
The Paradigm Shifter on Flickr
As part of our series on infographics, today's article will present 7 awesome tips for promoting your infographics. Promotion is perhaps the most important thing when it comes to infographics. I have seen some relatively mediocre infographics do quite well, whereas you could have the best infographic in the world but if no one is going to see it that won't be much use to you.
But without further ado, here are the tips:
Link Your Sources and Contact Them: You should publish your infographic as part of an article on your website and add your sources at the bottom of your infographic as links. Then you can get in touch with all the sources telling them you found their stats useful and linked to their websites, hopefully they will hook you up with a link back.
Encourage Sharing: You should make sure that you include an embed code and social sharing buttons to make it easy for people to share your infographic before you publish it.
Contact Bloggers, Friends and Influencers: Get in touch with as many people as possible and spread the word. If you can get published on blogs, or influencers start promoting your infographic for you, then you are going to start getting some great links together, and more will link to you naturally.
Broadcast Via Social Media: We have talked about making sure people can share your infographic via social media by including sharing buttons, but you should also give it an initial push yourself. Networks that lend themselves particularly well to infographics are reddit, stumbleupon, pinterest, facebook and google plus but you should publish it on any social media account you have with a strong audience. 
Promote via E-Mail: If you regularly send out content to a list via e-mail, then why not include a compelling part of your infographic and link back to the full infographic in the source? That way you are getting even more exposure to your new work of art!
Send Out a News Release: News releases are a great way to promote your infographic. When you put out a news release with a service like PRWeb it gets picked up by all sorts of sites and media outfits; if you did a good job it could get picked up by a major media outfit.
Publish it on Infographic Websites: there are a load of great websites that you can publish your infographic on that can increase your exposure, below is a small sample of the sites you could use in order to start you off: 
I hope the tips that I provided prove useful to you. If you follow them you should be well on your way towards getting a decent amount of exposure for your infographic. Next week we will be publishing an infographic to finish off the series, so make sure to look out for it! 
Infographics